Information from https://www.wwf.org.uk/learn/fascinating-facts/polar-bears
photo: Florian Schulz/visionofthewild.com
1. POLAR BEARS ARE CLASSIFIED AS MARINE MAMMALS
Because they spend most of their lives on the sea ice of the Arctic Ocean depending on the ocean for their food & habitat, polar bears are the only bear species to be considered marine mammals
photo Jon Aars/Norwegian Polar Institute/WWF-Canon

2. POLAR BEARS ARE ACTUALLY BLACK, NOT WHITE
Polar bear fur is translucent, and only appears white because it reflects visible light. Beneath all that thick fur, their skin is jet black.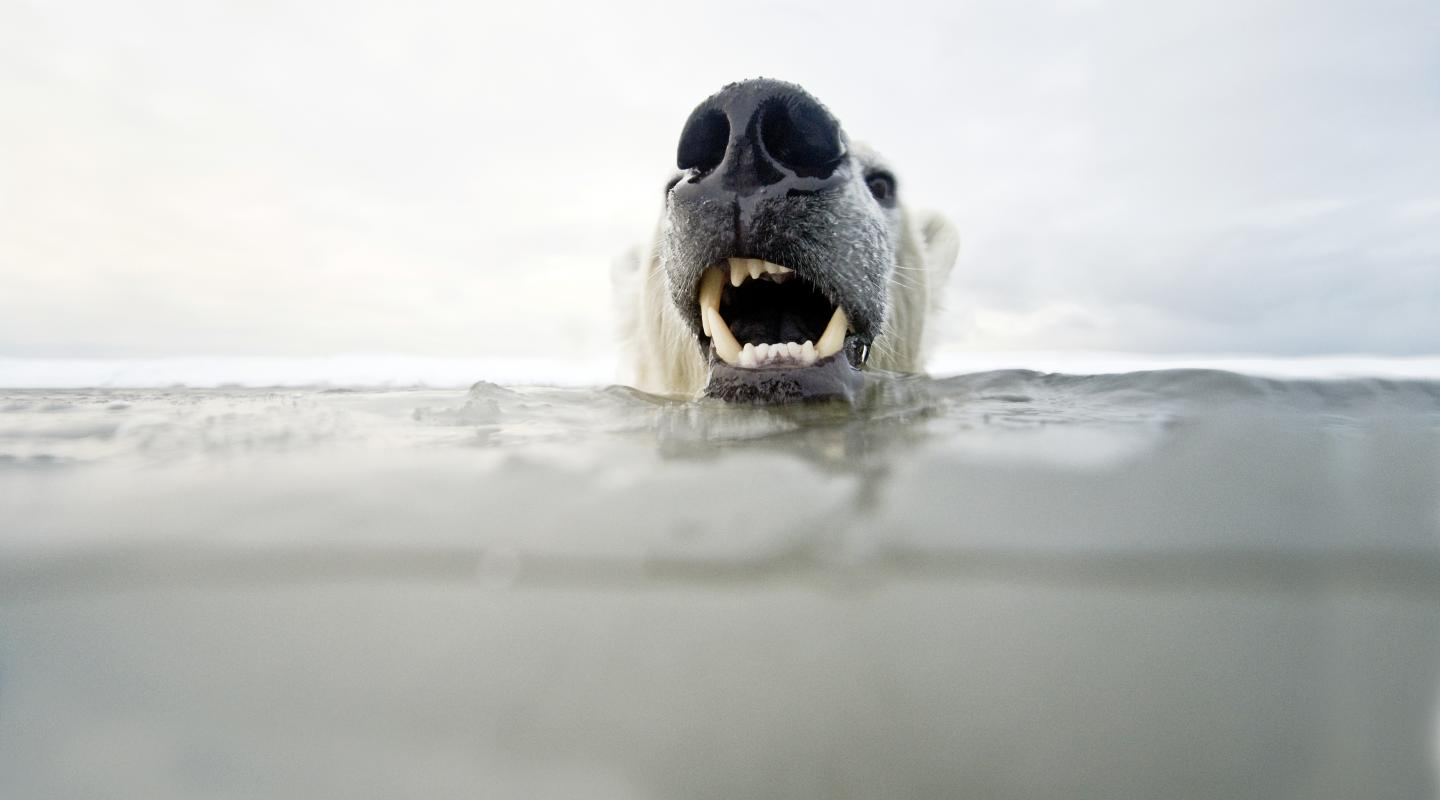 Photo: naturepl.com/Steven Kazlowski/WWF

3. THEY CAN SWIM CONSTANTLY FOR DAYS AT A TIME.
As well as reaching speeds of up to 6mph in the water, polar bears can swim for long distances and steadily for many hours to get from one piece of ice to another.
Their large paws are specially adapted for swimming, which they'll use to paddle through the water while holding their hind legs flat like a rudder.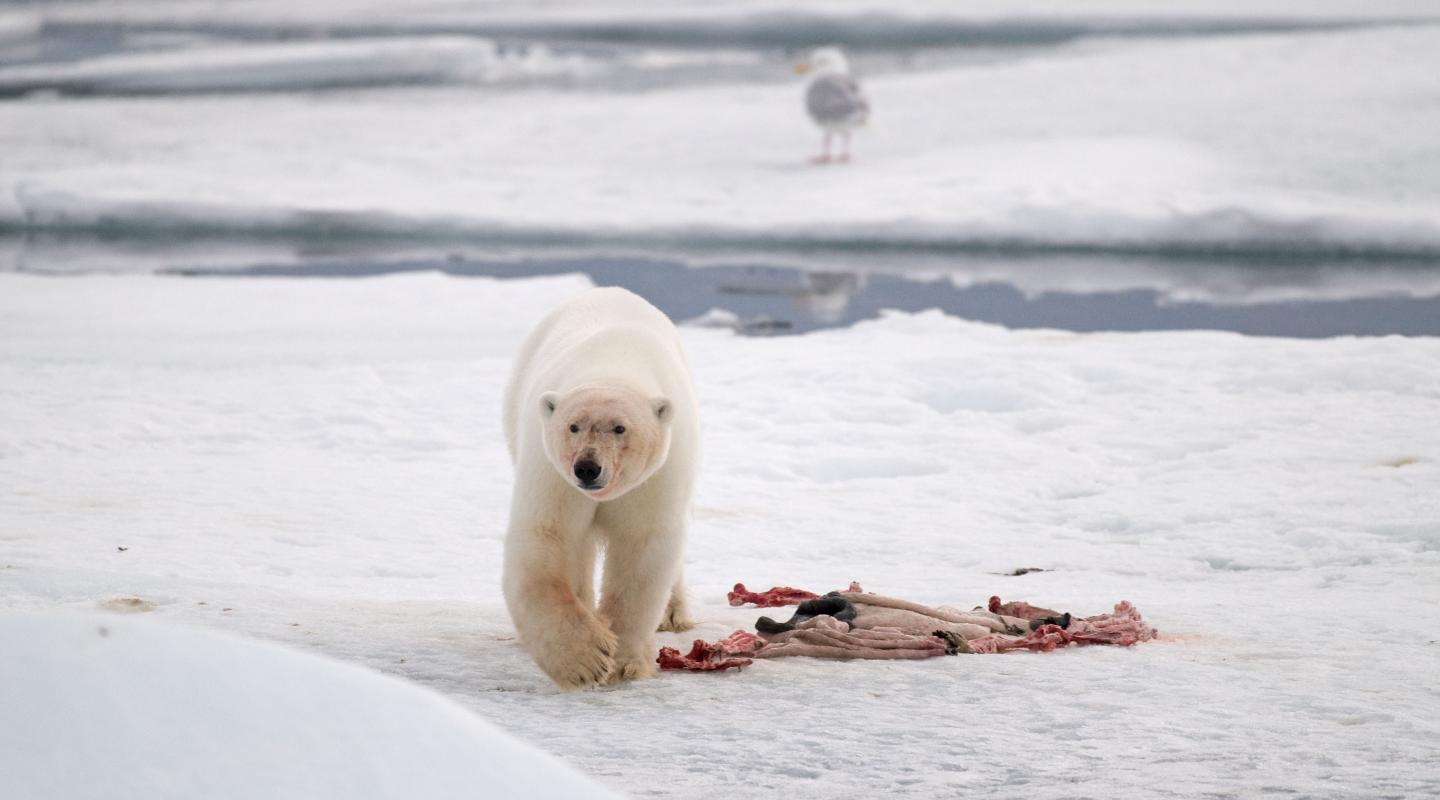 photo: Steve Morello/WWF
4. LESS THAN 2% OF POLAR BEAR HUNTS ARE SUCCESSFUL
Although about half of a polar bear's life is spent hunting for food, their hunts are rarely successful. Polar bears main prey consists of ringed seals and bearded seals,
though they will scavenge carcasses or settle for small mammals, birds, eggs, and vegetation
photo: Public Domain
5. SCIENTISTS CAN EXTRACT POLAR BEAR DNA FROM JUST THEIR FOOTPRINTS
an innovative new technique developed by WWF and DNA specialist firm SPYGEN allows scientists to isolate DNA from a polar bear's footprint in the snow.
Two tiny scoops of snow from a polar bear track revealed not just the DNA of the polar bear that made it, but even from a seal, it had recently eaten.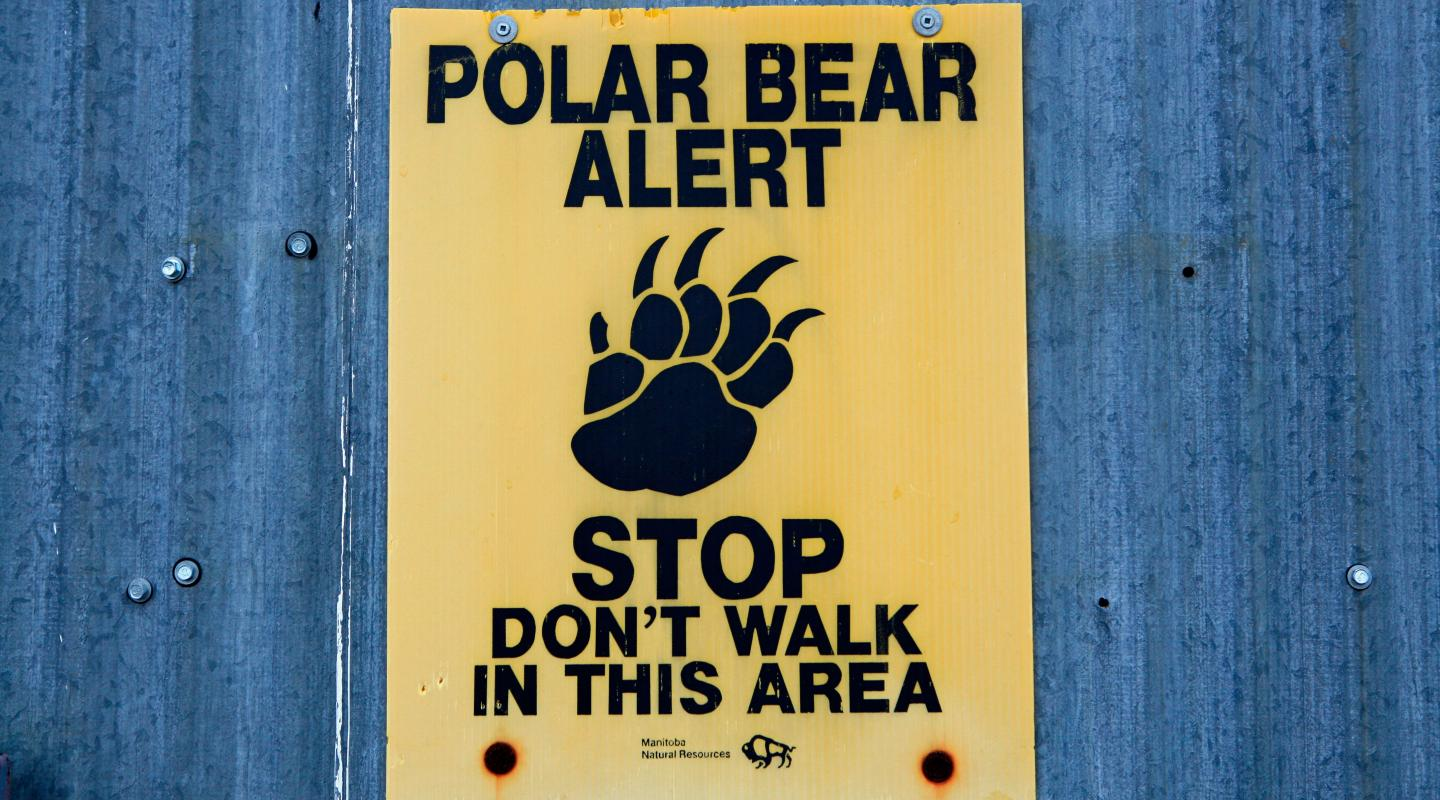 photo from WWF.org Website
6. THEY FACE MORE THREATS THAN CLIMATE CHANGE
While climate change remains the greatest threat to the polar bear's survival, that is not all that the predator is up against. The oil and gas industry is turning its eyes to the arctic, and with it comes potential risks of habitat destruction from oil exploration work. Contact with oil spills can reduce the insulating effect of a bear's fur requiring them to use more energy to get warm, and can poison them if ingested. Polar bears can also be exposed to toxic chemicals such as pesticides through their prey, which can affect a bear's biological functioning and ability to reproduce.
photo: Klein & Hubert/ WWF
7. GRIZZLY-POLAR BEAR HYBRIDS EXIST
As recently as 2006 genetic testing confirmed the existence of polar bear-grizzly bear hybrids, also known as 'grolar bears' or pizzly bears'. The hybrid physically resembles an intermediate between the two species, but as wild hybrids are usually birthed from polar bear mothers they are raised and behave like polar bears. The ability for polar bears and grizzly bears to interbreed is unsurprising when you consider that polar bears evolved from brown bears as recently as 150,000 years ago.
image: WWF-Canada
8. THERE ARE AS MANY AS 19 SUBPOULATIONS OF POLAR BEAR
The total population of approximately 26,000 wild polar bears is divided into 19 units or subpopulations, of these just 1 subpopulation is increasing, 5 are stable and 4 are in decline. The remaining 9 have not been assessed as they are data deficient. - we simply do not have enough information about them to know how they are doing.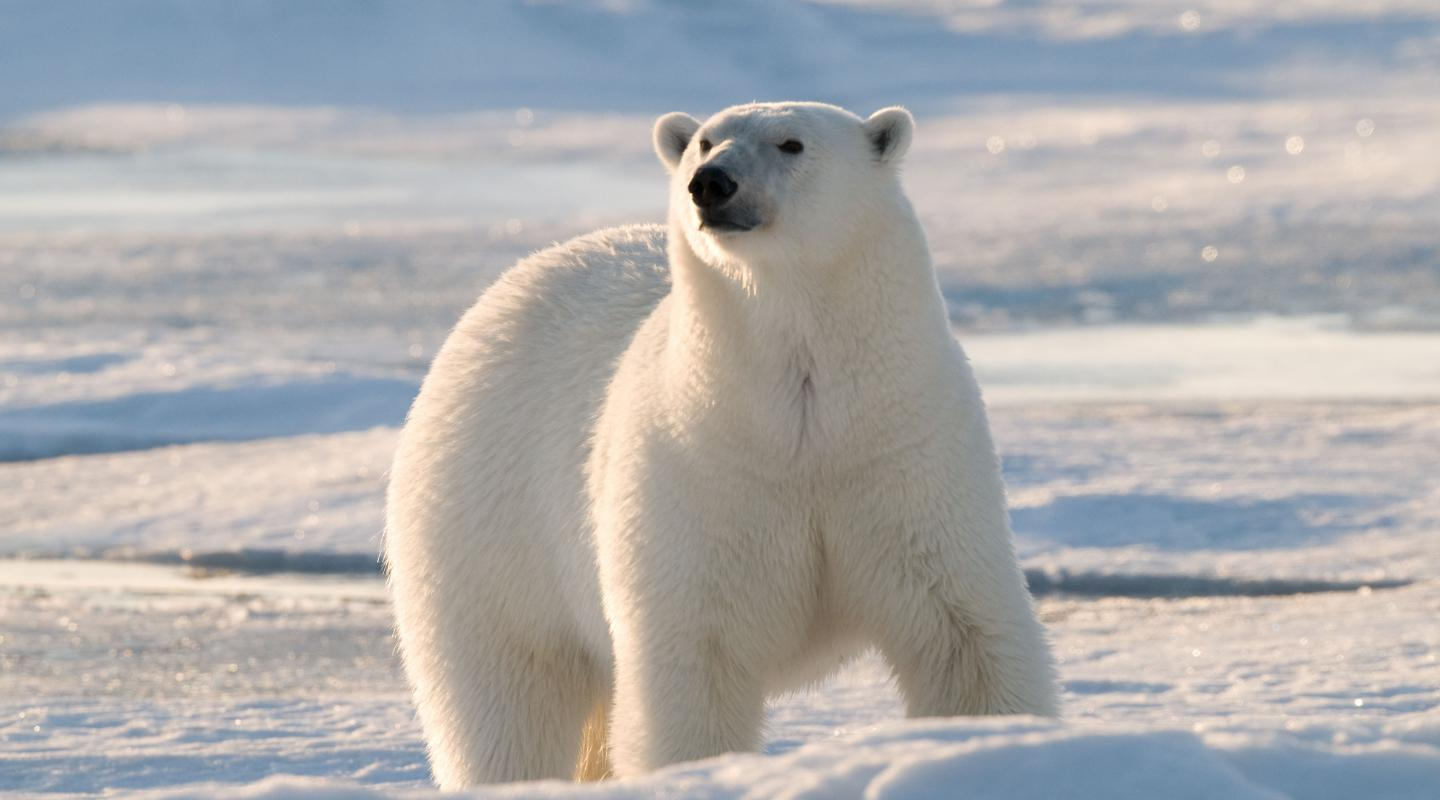 photo: Steve Marello/WWF
9. MALE POLAR BEARS CAN WEIGH AS MUCH AS 10 MEN
Male polar bears can weigh up to 800kg and are twice the size of females. This, in addition to the fact that they can measure up to 3 metres long, making polar bears the largest land carnivore in the world.
photo WWF-US/Elizabeth Kruger

10 THEY CAN SMELL THEIR PREY UP TO A KILOMETER AWAY
Polar Bears have a very strong sense of smell, which they use to find seal breathing holes in the ice. Once it has found the hole, the bear will wait patiently until the seal comes up for air to attack. They can even detect a seal in the water beneath a metre of compacted snow.
PLEASE ADOPT A POLAR BEAR AT support.wwf.org.uk
Other cool facts about Polar Bears:
They can overheat when in running in the summer and when temperatures rise above freezing.
The clean themselves by rolling in snow.
They can reach speeds of up to 25 mph on land and swim 6mph.
They can live up to 30 years
A female polar bear will have an average of 5 litters of cubs her lifetime
SAFARI TRIPS TO SEE POLAR BEARS!
Polar Bear Mother and Newborn Cubs – March
Spring Polar Bears of Baffin – March & April
Narwhal and Polar Bear Safari – May & June
Polar Bears and Glaciers of Baffin Island – August
Polar Bear Migration Fly-In Photo Safari – October & November
YES, THERE IS MORE TO KNOW!
Polar bears touch noses to ask to share food.
Polar bears do not prefer sea ice to land, they need sea ice to survive.
A polar bear's hunting and eating patterns depend completely on sea ice. Why? Because seals depend on it––and seals are the only food source with a high enough fat content and enough calories to keep a polar bear healthy. Polar bears can only reach seals from the platform of sea ice. While they are good swimmers, catching a seal in open water is extremely challenging and unlikely. Polar bears also rely on sea ice for travelling, breeding, and sometimes denning.
Habits and Behaviors:
Polar bears communicate through body language, vocalizations, and scent markings:
Head wagging from side to side: A sign that polar bears want to play. Adult bears initiate play—which is actually ritualized fighting or mock battling—by standing on their hind legs, chin lowered to their chests, with front paws hanging by their sides.
Nose-to-nose greetings: How a bear asks another bear for something, such as food. The guest bear will approach slowly, circle around a carcass, then meekly touch the feeding bear's nose.
Chuffing: A vocal response to stress, often heard when a mother bear is worried for her cubs' safety.
Scolding: Mother bears scold cubs with a low growl or soft cuff.
Rushing: When a male approaches a female with cubs, she rushes toward him with her head lowered.
Hissing, snorting, lowered head: Signifies aggression.
Loud roars or growls: Communicates anger.
Deep growls: Signifies a warning, perhaps in defense of food.
Charging forward, with head down and ears laid back: Attack mode.
Moving downwind of dominant bears: Signifies submission.
TO KEEP UP TO DATE ON POLAR BEARS WE RECOMMEND YOU BOOKMARK:
https://polarbearsinternational.org/